Renew Your CDA®
Your CDA credential is authentication of your competence, valuable skill set and early childhood body of knowledge.
Keep Your CDA® Active
The CDA® renewal process gives you the opportunity to reaffirm your competence as Preschool, Infant-Toddler, Family Child Care or Home Visitor Child Development Associate®. A CDA credential is valid for 3 years from the award date.
Please note: You must renew your CDA credential before it expires. Make sure to prepare in advance and be ready to submit a complete application with supporting documents when your renewal window opens. You may submit your CDA renewal application up to 6 months before your credential expires. You can only renew in the setting of your original credential and all renewal requirements must be met in that setting, even if you no longer work in that setting.
Use our free CDA Renewal Procedures Guide to successfully prepare and complete the renewal process. Download your setting-specific CDA renewal procedures guide based on the credential you are seeking to renew.
You will also want to download the Information Early Childhood Education (ECE) Reviewer booklet to help your ECE Reviewer correctly fill out the required information for your renewal application:
If you would like a printed copy of The CDA Renewal Procedures Guide, you may call our Customer Support team at 800-424-4310 to have one mailed to you. Customers will be responsible for the cost of shipping the guide.
Gather required documentation. Detailed instructions and forms are provided in The CDA Renewal Procedures Guide.
Watch the free YourCouncil renewal tutorials series. These short tutorials walk you through the online application process.
Apply for the CDA Renewal. Once you meet all requirements, you are ready to fill out and submit your CDA renewal application. To apply for CDA renewal online, the fee is $125. To apply for CDA renewal by mail, the fee is $150. Remember: You may submit your CDA renewal application as early as six months prior to your CDA credential expiration date.
We highly recommend applying for CDA renewal online. You will be able to upload your documents directly into your online application, submit payment electronically and track your progress.
Follow the instructions below to access your online YourCouncil account:
Click "Reset Password" button below.
Enter the current email address the Council has on file for you.
Click "Submit".
You will receive an email with your username and temporary password.
You may also renew your CDA credential by mailing in a paper application. If applying on paper, please mail complete renewal application with required documentation and payment to:
Council for Professional Recognition
2460 16th St. NW
Washington, DC 20009-3547
For an overview of the CDA renewal process, click the image or download button below.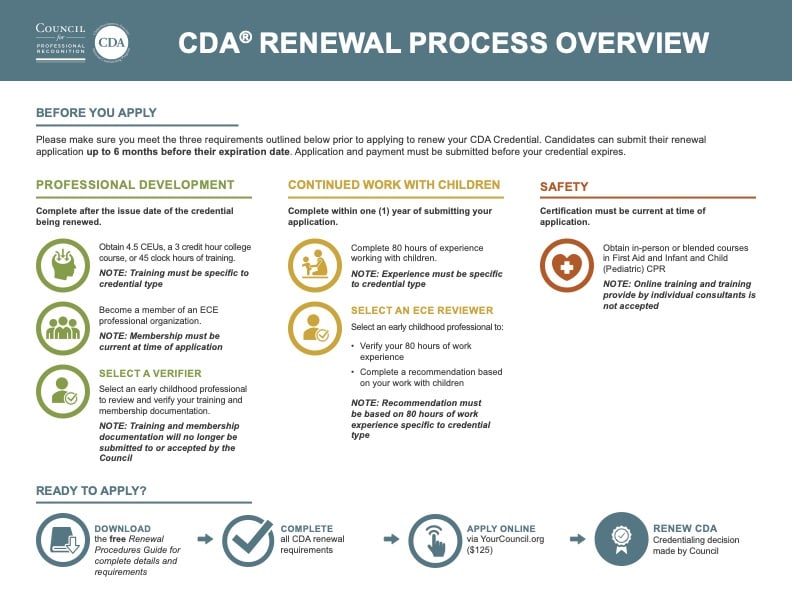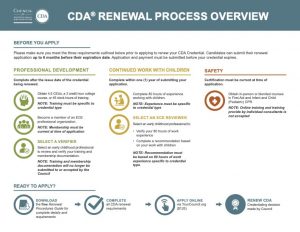 Upon receipt of the application, full payment and supporting documents, Council staff will review the materials to make a credentialing decision. If the materials are incomplete or do not meet requirements, the Council will notify you, and you will be given the opportunity to resolve the problem within a specified time period.